Crash Data Retrieval (black boxes)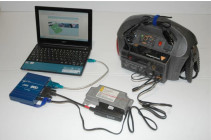 Our offices can download electronic data from passenger vehicles using the Crash Data RetrievalTM (CDR) system manufactured by Bosch. The electronic data is stored in different vehicle modules depending on the type of vehicle and as such, a blanket term is used – Event Data Recorder (EDR). Almost all new vehicles record crash data and many older vehicles (General Motors, Ford) have been downloadable for over 15 years.
Using the CDR system, we can download the following brands:
Chevrolet, GMC, Buick, Cadillac, Pontiac, Oldsmobile, Saturn (1994 and newer)
Ford, Mercury, Lincoln (2001 and newer)
Chrysler, Dodge, Ram, Jeep, Fiat, Plymouth (2005 and newer)
Toyota, Lexus, Scion (2002 and newer)
Honda, Acura (2012 and newer)
BMW, Mini, Smart (2013 and newer)
Mercedes-Benz (2014 and newer)
Nissan, Infiniti (2012 and newer)
Mazda (2011 and newer)
Volkswagen, Audi (2015 and newer)
Volvo (2011 and newer)
The above list is simply a general guideline. The specific year, make and model needs to be checked with the CDR system to verify if data is available. Vehicles manufactured after September 2012 must be commercially downloadable if they contain an EDR. Check here for currently downloadable vehicles – www.cdr-system.com/resources/coverage.html.
Hyundai and Kia have their own download kits and the data can be downloaded using the specific manufacturer supplied kit (not the same as the CDR system). Other vehicle manufacturers (e.g. newer Subaru, Mitsubishi, Jaguar, etc.) store data in their vehicle air bag systems, but the data cannot be retrieved using the CDR system. In some cases, the manufacturer needs to be contacted directly, through their legal department, to access the data. In other cases, the data can be downloaded using other techniques. Contact our office to inquire about the potential data available in a specific vehicle.
It should be noted that vehicle EDR's are normally part of the air bag system. The primary purpose of an Air Bag Control Module (ACM) is to deploy the air bags, seat belt pre-tensioners and other safety equipment. After that task has been completed, data is written to the EDR if sufficient power remains in the system. This is the primary difference between an EDR in a vehicle and a black box in an airplane: the black box in an airplane is intended to continuously record information, whereas the EDR in a vehicle records data only if a sufficiently aggressive event occurs.
Data varies depending on the manufacturer, vehicle and model year of the vehicle. Some 1994 model year General Motors vehicles were downloadable, but the data was largely limited to driver's seat belt status and impact severity (delta-V). However, in model year 2000, pre-crash data was available in General Motors vehicles for approximately 5 seconds leading up to the collision.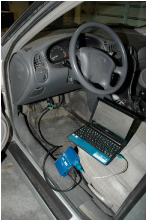 This pre-crash data included:
wheel speed
braking (on/off)
accelerator pedal percent
engine RPM
Since 2000, many manufacturers provide the above data and more, including:
driver and front passenger seat belt status
steering wheel angle
cruise control status
longitudinal and lateral delta-V
The EDR may record data even if the air bags or other safety equipment did not deploy. For example, in a low-speed collision or in a pedestrian collision, the EDR may record data if the impact severity was sufficient. Typically, the only way to know if data was recorded is to download the EDR.
Newer vehicles are recording more and more data. Vehicles are starting to record data not only as part of the air bag system, but as part of other vehicle systems. Manufacturers are interested in the driving history of the vehicle and data may be stored in other electronic modules within the vehicle (e.g. Body Control Module or BCM). For example, some Toyota vehicles record data not retrievable by the CDR system, but only retrievable through Toyota diagnostic equipment.